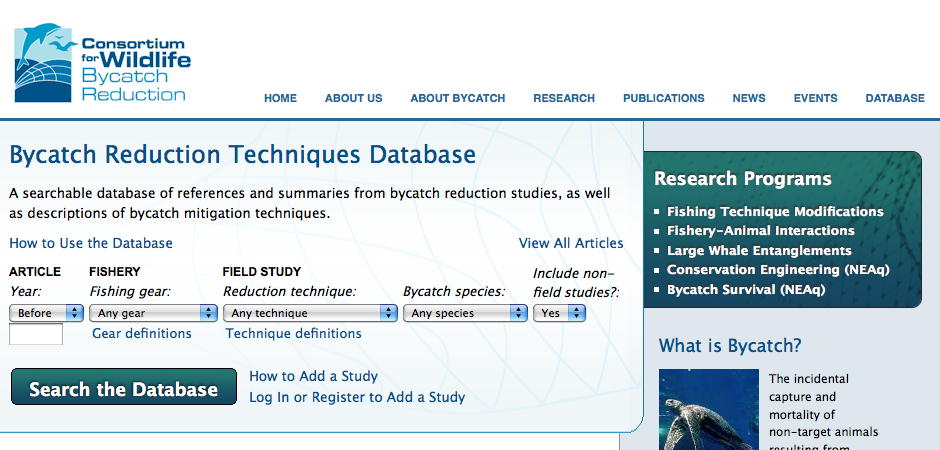 New Website Puts a Public Face on Ocean Wildlife Protection Issue - "Bycatch"
Charles River Web announced today that they have gone live with a new website for the Consortium for Wildlife Bycatch Reduction (www.bycatch.org), which is comprised of leading research and industry associations, including the New England Aquarium and the Maine Lobstermen's Association. "Bycatch" refers to marine species that are caught incidentally in fishing gear. According to the consortium, every year at least 7.3 million tons of marine life is caught incidentally with threatening consequences for endangered species. In some cases, the ratio of bycatch to the intended species is extreme. For example, in trawler shrimp harvesting in the Gulf of Mexico, four pounds of incidental marine life has been reported caught for every one pound of the desired shrimp. The consortium believes in forming science-industry partnerships to best address and rectify the problem of bycatch.
Prior to going live with the new site, the consortium operated an online database intended primarily for scientific use. The new site created by Charles River Web with graphical design from Metropolis Creative of Boston, Mass, creates a public face to the topic that is engaging and easily accessible. It helps the consortium expand its reach while still serving its scientific objectives. According to Tim Werner of the New England Aquarium, "Our goal for the bycatch reduction site was to greatly expand public awareness about the issue while maintaining and building upon our extensive library of scientific research. The new website by Charles River Web with graphic design by Metropolis Creative, helps us do just that. It improves the searching and display of our research database while also providing new features and capabilities of interest to the general public."